Co-Vicars: Revs Sarah and Hennie Nothnagel
Sarah: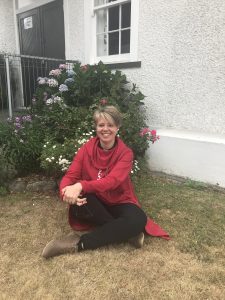 I moved to New Zealand from South-Africa with husband Hennie and our boys, Juan and Shaun in 2005. We lived on the Kapiti Coast for 13 years and loved it. We are looking forward to putting deep roots down in the Wairarapa and to be part of the community here in Masterton. I enjoy reading, being creative with paint, tramping and just hanging out with people.
I love journeying with people, hearing their stories and learning from their wisdom. I believe God created us to be in relationship with each other. We need community around us to keep us accountable, to encourage and support.
My life verse is Hebrews 12:1,2 As for us, we have this large crowd of witnesses around us. So then, let us rid ourselves of everything that gets in the way, and of the sin which holds on to us so tightly, and let us run with determination the race that lies before us. Let us keep our eyes fixed on Jesus.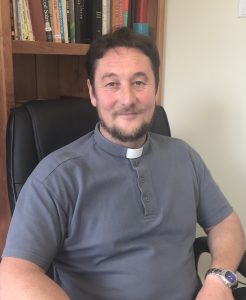 Hennie:
I was brought up in a Christian home in South Africa and immigrated to New Zealand with my wife Sarah and our two sons in 2005. We are New Zealand citizens and love it here: we call NZ home. I trained as an electrician and have been self-employed in the past. We lived in the Kapiti area for most of our time in NZ. We began our ministry in the Kapiti Anglican Parish while I worked in the High Voltage Industry in the lower North Island. I attended my first Cursillo as a pilgrim on M31 in 2008 and have been involved ever since. I was ordained deacon in 2010 and priested 2011. I was in self-supporting ordained ministry in the Kapiti Anglican Parish for three years and then Priest-in-Charge in the Shannon-Foxton Anglican Parish for three more years whilst employed as Balance of Plant Maintenance Coordinator across two Meridian wind farms. More recently I worked as an Estimator at Connetics in Tawa before we moved to the lovely Wairarapa.
We moved here in early January 2019 and found the tangata whenua to be very friendly and welcoming as we were accepted into the parish and the wider community. God called us to the Wairarapa, and we are ready to serve. We are keen to lead the parish to grow, developing a sense of community. I believe that "leadership is a collaborative role, empowering and coaching people while being permission-giving, a host rather than a hero approach."
Jesus never said it is going to be easy, but I believe He is the driver of the Bus and in full control. That means that we will need to put on our safety belts and be ready for wherever he takes us. We are on a journey. I am on the bus: ARE YOU?
Wairarapa Hospital Chaplain and Priest Assistant – Rev. Liz Snowsill
I am a self-supporting priest, with grown-up children who are all flown and busy. I have glorious grandchildren.
My studies at Vic, Massey and Wellington College of Education included Education, Social Sciences, Pacific Studies and Art History. I have a B. Ed. and FCTL- speech and drama. I was an EFM mentor 1994-2006.
Currently I hold role of Chaplain at Wairarapa Hospital.
I am driven by: the Holy Spirit, Deuteronomy 31:7, Meister Eckhart, Thomas Fox, Thomas Merton et al.
My favourite books are T. H. White's The Once and Future King and Jostein Gaarder's "Sophie's World". I release books into the wild and try to live life to the full.