Children at Epiphany
A programme for children is offered every first and third Sunday for one hour to coincide with our 9:30 a.m. service on Sundays. It is a structured programme that does not assume any previous knowledge of Christian teaching.
The programme does require commitment from children and parents/carers. It will follow the Church's Year and lead to Baptism, Holy Communion and Confirmation.
---
Kids Song & Story
Friday Mornings 9:30 to 10:30 during school terms.
A social hour for preschool children and caregivers.
Contact Phone Pam 3786740
---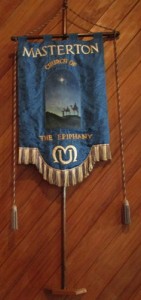 WELCOME to the Epiphany Mothers' Union Branch.
Our meetings are held on the FIRST TUESDAY OF EACH MONTH, starting at 1.45pm with a service in the Church. We then usually move into our newly renovated hall for our programme or occasionally we have an outing for members.
We are a very active group within the Wellington Diocese and the majority of members are active in some way within the life of our parish. We have also been instrumental in creating a rose garden around the boundary of our newly refurbished parking area of the church grounds, one of which is the Mary Sumner Rose. Part of our outreach is to support our annual Refugee visit to the parish and to financially support a child to attend the Riversdale Christian camp annually.
If you are looking to join such a group as this or are planning to visit the Wairarapa and looking for a Mothers' Union group to visit, then you will be very welcome. Our programme for this year is below and provides an interesting range of speakers and activities.
Please don't hesitate to make contact either through our Parish Office which is open weekly Monday – Friday from 9am – 12 noon (06 378 2169) or phone the Branch Leader, Cheryl Hansen (06 378 0017). We look forward to your company.
TEDDY Bears PICNIC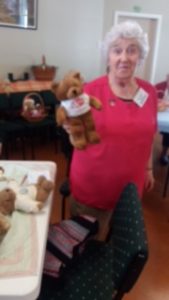 December 2018 saw our branch embrace the season of Advent in our church service – if the church can't keep Advent then no other organisation can!
This was followed by our Teddy Bears' Picnic so everyone dared to go down into the woods and be part of the picnic. And what stories those bears had to tell – some had travelled the world, many had been given in childhood BUT – only one bear had a name which was interesting.
Stories abounded around the tables and many fond memories shared.
A fun quiz about the history of the teddy bear was acclaimed a great success and so eventually all the very tired little teddies were taken home to bed!
Nighty night teds!
Annual Epiphany Quiz Night
The inaugural Epiphany Quiz Night was held on Sept 18th 2019 in the church hall. There were eight teams of young, old, and in between competing for the title of champions.
Ably compered by Jonas Mead, the competition waxed and waned, with teams choosing different rounds as the "Joker Round". Teams could buy answers. The rumour that the team comprising our co-vicars, Sarah and Hennie, bought 8 answers in their Joker Round (the Bible), and still did not get all 10 questions correct, is, in fact, true.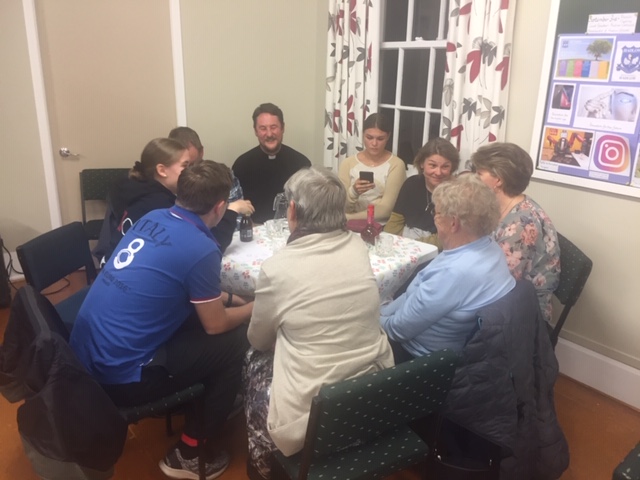 As the competition unfolded, the Joker Round proved crucial to the final result, and the winning team, Ragamuffins, emerged victorious. Second place was awarded to Marjorie's team.
The supper was tasty and plentiful, the company was exceptional, and the night was a great success.