Children at Epiphany
A programme for children is offered weekly for one hour to coincide with our 9:30 a.m. service on Sundays. It is a structured programme that does not assume any previous knowledge of Christian teaching.
The programme does require commitment from children and parents/carers. It will follow the Church's Year and lead to Baptism, Holy Communion and Confirmation.
---
Kids Song & Story
Friday Mornings 9:30 to 10:30 during school terms.
A social hour for preschool children and caregivers.
Contact Anne Owen, 06 377 4505
---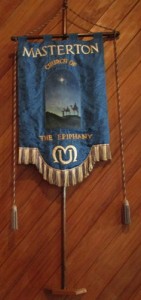 WELCOME to the Epiphany Mothers' Union Branch.
Our meetings are held on the FIRST TUESDAY OF EACH MONTH, starting at 1.45pm with a service in the Church. We then usually move into our newly renovated hall for our programme or occasionally we have an outing for members.
We are a very active group within the Wellington Diocese and the majority of members are active in some way within the life of our parish. We have also been instrumental in creating a rose garden around the boundary of our newly refurbished parking area of the church grounds, one of which is the Mary Sumner Rose. Part of our outreach is to support our annual Refugee visit to the parish and to financially support a child to attend the Riversdale Christian camp annually.
If you are looking to join such a group as this or are planning to visit the Wairarapa and looking for a Mothers' Union group to visit, then you will be very welcome. Our programme for this year is below and provides an interesting range of speakers and activities.
Please don't hesitate to make contact either through our Parish Office which is open weekly Monday – Friday from 9am – 12 noon (06 378 2169) or phone the Branch Leader, Cheryl Hansen (06 378 0017). We look forward to your company.
PROGRAMME 2017
Dear Friends,
Welcome to this new year of 2017. A warm welcome to our new Priest in Charge, the Revd Larry Ashmore and his wife Elaine.
Your committee has prepared an excellent programme and you will notice that we have included the Afternoon Tea duties to make sure the task is shared.
If you hear of a pastoral need of a member, please contact one of the Committee who will pass the information on to Cheryl.
7th MARCH
Commission 2 Committee members and transfer/welcome Sue Fletcher
Speaker: Revd Larry Ashmore, Priest in Charge at Epiphany
Afternoon Tea: Beverley Kirby/Norma Pauling
4th APRIL
Speaker: Gerry Lacey – My Life and Times
Afternoon Tea: Marcia Davies/Shirley Ball
2nd MAY
Linda Everingham, Plunket Nurse
(also a Vestry member).
Afternoon Tea: Kay Griffin/Ros New
6th JUNE
"Boots and All" –Shirley Nightingale – the Shoe Lady from Martinborough
Afternoon Tea: Margaret Manley/Lexie Paterson
4th JULY
Soup & Rolls lunch – 12.30pm; Board Games
Kitchen: Beverley Kirby/Nancy Grantham
1st AUGUST
Reflection Aftn (Quiet) Heather Keith
Afternoon Tea: Cheryl Hansen/Marjorie
5th SEPTEMBER
Mark Everingham, Senior Corrections Officer (husband of Linda)
Afternoon Tea: Maureen/Eric McEwen
3rd OCTOBER
Branch AGM
Afternoon Tea: Margaret Manley/Lexie Paterson
7th NOVEMBER
69th Birthday – Visit St Andrew's in the Paddock –Revd Liz Greville
Afternoon Tea: Marcia Davies/Ann Owen
5th DECEMBER
Advent activities to please everyone!
Afternoon Tea: Committee