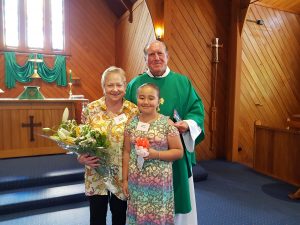 Epiphany Parish farewelled Rev Larry Ashmore, Elaine, and Hailey on Sunday Feb 10th.
Larry presided and preached for the final time as Priest-in-charge at Epiphany. He spoke of change, fertile ground, and service, as the parish prepares for a new era.
Larry was thanked on behalf of the parishioners by Michael Mercer, People's Warden, and on behalf of the bishop by Annie Hawkes, the Bishop's Warden. Also present and speaking was Roger Wigglesworth, who facilitated the nomination process.
Most importantly, though, was that 75 parishioners turned out on a beautiful Sunday to share worship and fellowship in acknowledgement of the service the Larry and Elaine have given to Epiphany. They will be missed, and we wish them all the best in their next adventure. For Larry, his next Key Performance Indicator is shooting his age at Landsdown Golf Course: good luck with that Larry!